Hey LV readers,
What are your plans this weekend? I can imagine how hard you worked through the week – you definitely deserve unwind this weekend. All work and no play makes you a dull person, I've carefully selected these fun events happening this weekend. You can check them out below and pick one to attend –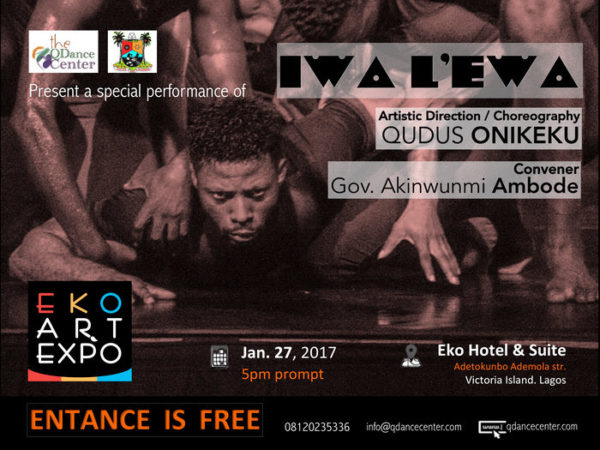 Iwalewa | Stage Play (FREE Attendance)
This stage play of four disabled and six non-disabled dancers, speaks of beauty in a non-conventional manner; what really is beautiful and what is not? What are the parameters for judging the beautiful from the ugly? Is there any such thing as a perfect body or a perfect human or a perfect dancer? How does beauty manifest through difference in abilities?
QDanceCenter will be at the Rasheed Gbadamosi Eko Art Expo in the company of Gov. Akinwunmi Ambode and Prof. Wole Soyinka, performing our breath-taking piece #IWALEWA.
Date: Friday, January 27, 2017
Time: 5PM
Venue: Eko Hotel & Suites, Victoria Island, Lagos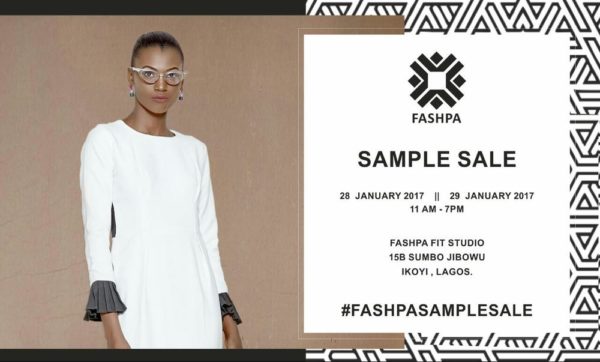 FASHPA Sample Sale (FREE Attendance)
For all lovers of fashion, Fashpa (one of the top 5 Nigerian fashion retailers) will be holding its First Sample Sale – #FASHPASAMPLESALE this weekend. Limited samples from this and past collections will be available at the upcoming sale. 
Date: Saturday, January 28 – Sunday, January 29, 2017
Time: 11AM
Venue: The Fashpa Fit Studio, 15b Sunmbo Jibowu, off Ribadu, off Awolowo Road, Ikoyi Lagos
"What's On Your Mind" Summit
I'm all about personal development and this is one event you should plan to attend. The "What's On Your Mind" Summit was conceived to help form participants choices, value and belief system so much so that we begin to see every participant living true and free while effectively engaging within their communities in career, health, relationship and business. 
Date: Sunday, January 29, 2017
Time: 3PM
Venue: Southern Sun Hotel, Ikoyi, Lagos
Registration: Send Name, Number & Age to whatsonyourmind017@Gmail.Com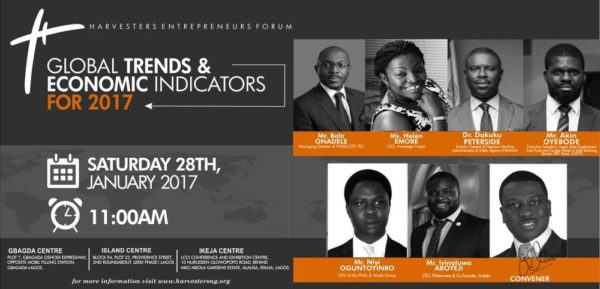 Harvesters Entrepreneurs Forum
If you are an entrepreneur, this is highly recommended for you. Harvesters International Christian Centre, invites you to her January edition of "The Harvesters Entrepreneurs Forum (HEF)", a monthly gathering of business professionals and entrepreneurs. The Forum aims to reach and equip entrepreneurs and people of similar inclinations with practical business knowledge to achieve and sustain economic success. The forum is targeted at high net-worth individuals, business executives and entrepreneurs with small to medium sized enterprises. The theme for this month is "Global Trends & Economic Indicators in 2017".
Date: Saturday, January 28, 2017
Time: 11AM
Venue: Gbagada Centre:
 Plot 5-7, Gbagada Expressway, Lagos, Opposite Mobil Filling Station | Lekki Centre:
 22, Providence Street, Lekki Phase 1 (2nd Roundabout), Lagos | Ikeja Centre:
 LCCI Building, 10 Nurudeen Olowopopo Drive, Alausa, Ikeja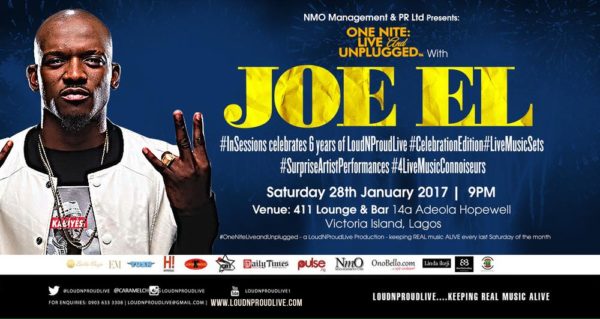 One Nite: Live & Unplugged with Joe El
Where are the dancers and hot-steppers; this one is for you to unwind; a moment to unravel without the suits and tie. #JustDance

Join Joe El at an unplugged night as LoudNProudLive Series celebrates its 6year Anniversary.
Date: Saturday, Janaury 28, 2017
Time: 9PM
Venue: 411 Bar & Lounge (Upper level), 14a Adeola Hopewell, Victoria Island, Lagos
Have a fabulous weekend.
Yours truly,